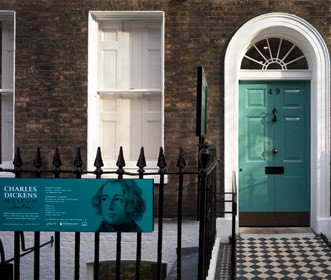 Charles Dickens Museum
Welcome to the Charles Dickens Museum, the only remaining London home of the renowned writer and one of the most important collections of his artefacts in the world.

Charles Dickens lived in this house from 1837 until 1839 and wrote Oliver Twist and Nicholas Nickleby whilst living here.

Manuscripts, rare editions, personal items, paintings and other visual sources as well as a research library are among the highlights of the Museum's holdings. The Museum is based at 48 Doughty Street in the heart of Bloomsbury in Charles Dickens's only surviving London house.

We offer visitors the chance to experience what Dickens's home would have been like when he lived here as well as learn more about the life and works of the great novelist and social commentator.
Buy Tickets
Adult: £8.00
Concession: £6.00
Child 6-16 years: £4.00
Children under 6 years: Free
Cafe.
Toilets.
Gift Shop.
What's On at Charles Dickens Museum
Location
Address:
Location: London
Email: events@dickensmuseum.com
Telephone: 020 7405 2127
Website: www.dickensmuseum.com

Copyright © 2023 Essex Attractions | Powered by DigiTickets
Advertise With Us